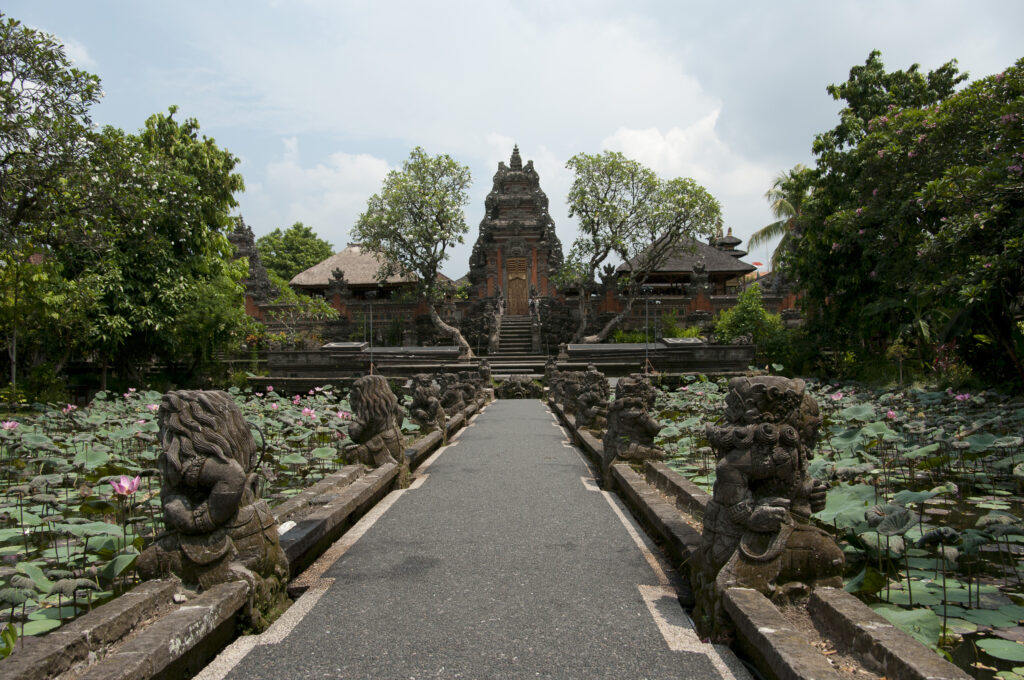 ENQUIRE NOW FOR 2024 – only four spaces left!
essence of bali yoga and art retreat
8th – 22nd May 2024
Imbibe the peace, joy and spirituality of Bali. Appreciate the richness of their culture, and their genuine friendliness.
The Balinese experience a gentle existence. Family, gods and spirituality are important factors in their daily life. They are all about balance in their life, while having an innate gentleness and acceptance for whatever is happening. Allow this to overflow into your being, creating quietness and peace within.
luxury accommodation
14 days of luxury accommodation at Villa San, in the heart of Ubud, the art and spiritual centre of Bali. Each day will start with either morning yoga taught by Swami Mukti or Qigong taught by Maia followed by Western or Traditional Indonesian cuisine. After breakfast, we will be doing sound/colour/intuitive art where you will have the
sessions where you will have the opportunity to create your own healing/blessing painting plus your Inner Divinity guided through the creative process by Maia.
Following the morning activities, you have time to have water purification ceremonies, treatments/massages, explore Ubud centre, experience the local cuisine, the famous Ubud Arts Market, sample the delicious Gelati, unlike anywhere else or any of the activities listed below. Also available on site is our very own Balinese Healer.
Villa San is a luxury five-star villa which will be for our exclusive use. There is a pool, pavilion, gym, Yoga deck, Buddhist Temple, conference room and telescope for stargazing. There will be a blessing ceremony both at the beginning of the retreat and at the end.
Rooms are twin share, 2 single beds per room.
---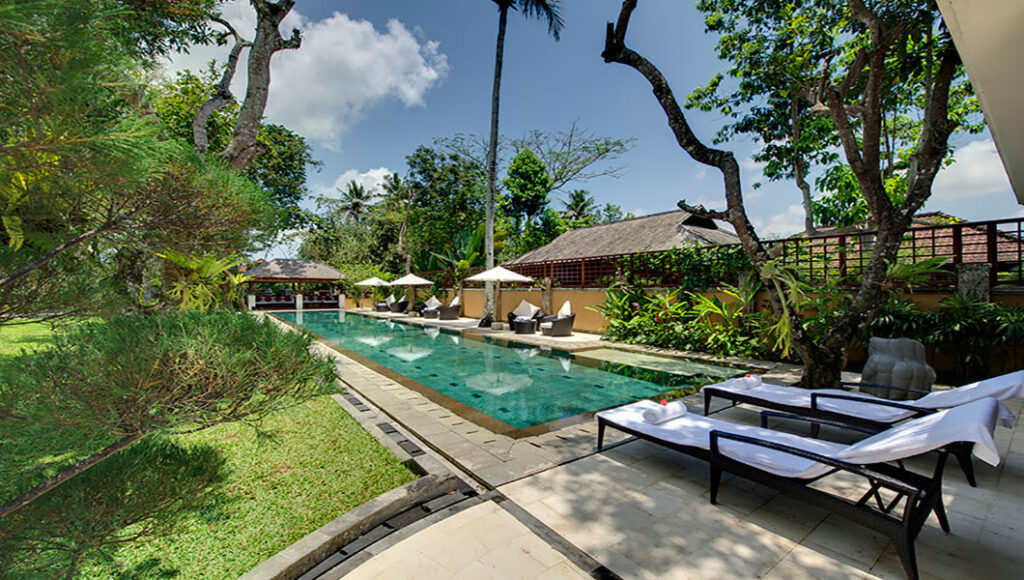 yoga
During the retreat there will be early morning Yoga classes taught by Swami Muktibodhananda Saraswati, which will be a therapeutic style of gentle Hatha Yoga to relieve stress, gain flexibility, heal the body, or perhaps to improve your energy. You can use Yoga for all these purposes but apart from the purely physical effects Yoga is also designed to help you create a unique inner journey of self-development allowing your Divine inner beauty to shine.
qigong
On some mornings, instead of Yoga there will be Qigong sessions taught by Maia. The invisible energy surrounding us is the breath of life to all beings and all of nature—that of air, sunlight, and water. Cultivation of Chi is deeply rooted in nature, the Earth, and the universe surrounding us. When you purposely cultivate and enhance your Chi or Prana you are accessing and circulating healing energy throughout your mind, body and spirit. In this way you can reclaim your energy, heal from dis-ease, and move towards self-transformation.
sound healing, colour & intuitive art
There will be sessions where we will be using sound healing, colour and intuitive art workshops taught by Maia where you will tap into the creativity
sessions where you will have the opportunity to create your own healing/blessing painting plus your Inner Divinity guided through the creative process by Maia.
Open your heart and mind to your inner Divinity, your Goddess Within. Explore your inner self, the sacred part of you using sound, colour, meditation, intent, ritual and intuitive art.
Intuitive art comes from deep within your soul, allowing you to access the inspiration and beauty within. When we let go of the rational mind, the inner critic, and allow ourselves to be guided by a deeper force we can create wondrous artworks of beauty. This will provide you with an insight into your deeper self so that you can move forward in sacredness and reverence on your journey.
No artistic experience or ability is required as instruction will be given. Just be there with an open mind and heart ready to find the deep beauty within yourself.
numerous optional activities are available
You can choose your own activities. Do all, some, or none! Options include:
Pyramids of Chi
Blessing ceremony at both the beginning and end of the stay
Traditional Balinese healer. Ask a 'channel' about your life
In house massage and spa treatments
Ayurevedic Treatments in Ubud
Morning yoga or Qigong meditation sessions
Sound, colour and Intuitive Art sessions
Water Temple visit—Pura Tirta Empul
Tanah Lot Temple visit
Mt. Batur — sacred mountain
Elephant Safari Park
Wood Carving Village
Weaving Village
Trekking through the rice fields
Monkey Forest

Ubud Market
---
hosts
Waiyne and Maia have a deep understanding and appreciation for the Balinese way of life. They have become 'conscious' travelers to this beautiful and spiritual island of the gods. Allow them to share their knowledge and respect for the Balinese way of life while staying in a five-star villa.
Maia will be teaching some early morning Qigong sessions as well as sound, colour & intuitive art sessions.
Swami Muktibodhananda Saraswati is a Yogacharya Master of Yoga who has dedicated the last 45 years of her life to experiencing and teaching Yoga and meditation. She will be sharing her vast skills and knowledge with us in the morning Yoga classes.
---
contact maia for more details and bookings on [email protected]